Calcium Bentonite Clay
Pure Enough to Eat
What is Living Clay?
Living Clay is a Calcium Bentonite Clay, sourced from a clean Montmorillonite-Smectite.  The volcanic ash it comes from is rich in trace minerals which is a powerful detoxifying product to stimulate, transform, and transmit energy to help cellular revitalization.  It is pure enough to eat!
What this product offers: 325 screen mesh for easy mixing and blending, homeostatic mechanisms to balance the body, fast results, 9.7 pH to alkalize the body, strong negative ionic charge so it absorbs and adsorbs metals and environmental toxins- drawing 32x its molecular weight, stimulates circulation and cellular revitalization, antioxidant to bind free radicals, odorless and tasteless, FDA GRAS, blend of the earth's natural trace minerals, and purity guaranteed by strict quality control processes and laboratory tests.
This clay is truly living and adapts to the environment it is placed into for balancing, revitalizing, stimulating and circulation. It re-configures itself in shape and size until it is full of positive ion toxins from all over the body and ready to expel itself out of the body. We think this is amazing!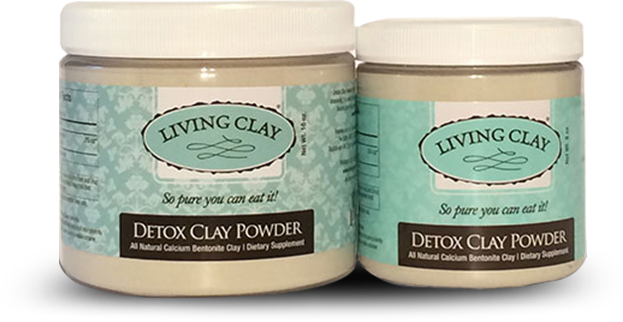 Primary Uses of Living Clay®
Detoxify
Cleanse
Balance
Alkalize
Stimulate
Energize
Products We Offer
Please contact us for pricing
Detox Clay Powder in various sizes.
Liquid Clay
Body Cream — Plain and Citrus Green Tea
Face and Body Scrub
Rejuvenation Face Cream
Cleansing Clay Mask
Muscle Rub
Wrinkle Release Cream
Detox Deoderant — Lavender or Lemongrass
Soaps — Unscented, Fresh mint, Lavender, Tangerine Almond
Conditioning Body Lotion
Living Clay Book — Nature's Own Miracle Cure Calcium Bentonite Clay by Perry A.